Optimizing Revenue with Shopee Ads: A Deep Dive into Vietnam's E-commerce Giant
Shopee, the e-commerce giant in Vietnam, commands a staggering 63% share of sales across all e-commerce platforms. Beyond this impressive statistic, the platform has 57.5 million monthly visits, with an average session duration of 17 minutes and 28 seconds. (Source:
VIETTIMES
)
This fertile landscape presents a treasure trove for businesses aiming to harness the potential of Shopee Ads. Leveraging this tool enables enterprises to efficiently deliver their products to prospective customers on Shopee, streamlining the
customer journey
and optimizing revenue generation. For businesses with an extensive array of products, Shopee Ads also serves as an excellent channel to test new offerings before scaling through broader social media ad campaigns.
Understanding Shopee Ads
Shopee Ads stands as a strategic advertising service provided by Shopee, affording sellers the opportunity to showcase their products on the Shopee platform. By crafting campaigns directly on Shopee's website and app, vendors can elevate the visibility of their products and storefronts to pertinent buyers, strategically positioned within high-traffic zones on Shopee. This orchestrated approach contributes to augmenting sales figures and attracting a larger audience.
There are varieties of Shopee Advertising including
Shopee Search, Discovery Ads, and Boost Ads
. Shopee Ads can shorten your customer journey in your
marketing funnel
by helping you to approach the right customers in their platform who already have a demand to buy.
To set up Shopee Ads, Sellers can visit the Shopee Ads page on the Merchant Channel or on the Shopee App.
1. Shopee Search
a.
Product Shopee Search:
This variant displays products on the search results page when a buyer searches using specific keywords designated by the seller.
b.
Shop Search Ads:
Ads bearing the seller's name, image logo, and ad tagline appear at the pinnacle of search results when buyers search using keywords linked to the advertisement.
Both types of ads are cost-per-click, with fees determined by the bid set within the ad account. However, it's important to note that not all bids will result in immediate prominence in search results. Three pivotal factors influencing bid performance and visibility are:
Ad Relevance

: Shopee employs a Content-Based Filtering algorithm to scrutinize product data, including titles and images. This algorithm correlates product attributes with the relevance of bidding keywords. Effective optimization yields a high keyword quality score, facilitating ad delivery when winning bidding sessions.
Performance Point:

 Shopee evaluates store performance metrics such as review scores, response rates, and cancellation rates to finalize bid allocations. Strong performance metrics render bidding for relevant keywords more economical, significantly elevating Search Impression Share.
Your bidding cost:

In the bidding session, bidding cost is one of the most important metrics to find the winner. Your bidding fee can be lower than the competitors to win the session if you did 2 factors above but the bidding need to be higher enough to be competitive.
To excel in Shopee Search Ads, implement the following strategies:
Thorough Keyword Research Planning. There are so many tools to research the keyword including the Shopee ads system,

Keyword planner

,

keyword.io
Comprehensive Enhancement of Shop and Product Details Pages
Enhancement of Shop's Performance Metrics, Aspiring for

Shopee Mall

Status
Elevating Click-Through Rate (CTR) and Conversion Rate (CR) for Key Keywords
Product Name

Best visualize length: 40 characters (key messages) Max length: 255 characters Structure: [Brand Name] - [Product] - [Product Features] - [Product Information] - [Origin]

Photos
Do not let the voucher hide the price
Logo Brand must be on 1st product image of the SKU
High quality (size 1: 1)

LONG DESCRIPTION

Best Practice: 80% of photos and 20% of words.

At least 50 words and 1 photo in the long description. Contain keywords belonging to top searched keywords for each category in Shopee Repeat brand name - product names 3 times

Photos

3-8 images *Hero Image (Logo brand official store) Product label Unique selling points Color swatch, all available shades, models… Origin, Warranty,etc)

high quality and clear images Video
*Hero Image: Hero Image (A product hero image is an oversized image of a product highlighting important product attributes such as brand, size, quantity, and differentiation points)
2.
Discovery Ads
Discovery Ads are showcased in "Today's Suggestions" on Shopee's homepage and during the Shopee Farm game. Additionally, they appear in the "You May Also Like" section on product detail pages, effectively attracting a wider array of buyers. Different from Search ads, discovery ads show your products to your audience and similar audience based on the data learned by Shopee Algorithm. You can set up your bidding cost or let the system Auto Optimisation.
Effective Targeting with Discovery Ads
Shopee employs three core strategies to ensure accurate buyer targeting:
Popularity-Based Approach:
Machine learning algorithms analyze user behaviors, purchase histories, and product interactions to discern trends and patterns. This data fuels recommendations, emphasizing popular items and enhancing the overall shopping experience. The application of the Popularity-based Approach includes:
Product Recommendations:

Users displaying interest in clothing items might receive suggestions for best-selling or trending clothing products.
Trending Products:

Real-time data analysis identifies presently popular or trending products.
Personalized Popularity:

Individual user preferences and browsing history recalibrate the definition of "popularity" for personalized suggestions.
Promotions and Discounts:

Recommendations consider both popularity and cost savings to encourage purchases
Content-based machine learning:
This algorithm recommends systems analyze the content of products and match them to the preferences or past behaviors of users.
While popularity-based and content-based recommendation systems are straightforward,
collaborative filtering
is complicated a little bit - a method uncovering concealed similarities in user-item interactions across distinct users. For instance, if two users both purchase earrings from the same seller, this implies a degree of similarity. If one user explores watches afterward, the engine could recommend similar watches to the other user based on perceived likeness.
Where will Discovery Ads appear?
Item Maybe You Also Like
Ads will show in the Maybe You Also Like section of the Product Detail page to attract more buyers.
Today's Suggestions
Your ad will show up in the Recommended Today section of the Shopee Home page to buyers who have viewed, added to their cart, liked, or rated a product similar to yours in the last 30 days.
3. Boost Ads
Boost Ads constitute Shopee's novel ad type, effectively augmenting product exposure across multiple high-traffic locations. This automated solution permits sellers to maximize sales with minimal intervention.
Key Features of Boost Ads:
Automated Optimization

: Shopee optimizes ads to maximize visibility and sales.
Prominent Product Placement:

Featured positions on search results, homepage, and product detail pages.
Broadened Reach:

Targeting potential customers seeking related or complementary products or having an interest in these products.
Cost-Effective:

Charges occur solely upon shopper ad clicks, debited from the Ad Account Balance.
In essence, while both Discovery ads and Boost ads aim to increase product visibility and sales, Discovery Ads focus on showcasing products to specific audiences based on various recommendation strategies, whereas Boost Ads are more automated and optimize product exposure across multiple high-traffic areas on the platform and reach beyond of similar audience.
What determines the display of the ad how it displays?
Shopee's algorithm forecasts shopper purchase likelihood, bidding higher for products deemed more likely to be purchased. Conversely, bids decrease if the purchase likelihood is lower. The algorithm dynamically adjusts bids to ensure a favorable Return on Ad Spend (ROAS).
Embracing Boost Ads facilitates business expansion within Shopee, broadening product visibility among interested consumers.
Search results
Ads appear on the search results page when shoppers search using keywords that match your ads
You May Also Like
Ads appear in the product detail pages of similar or complementary products to capture a highly relevant audience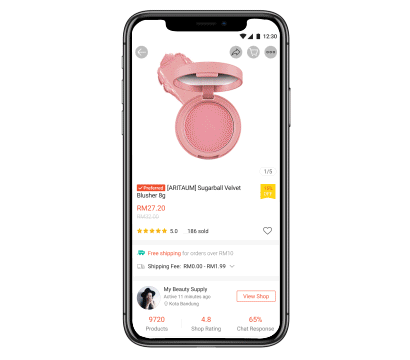 Daily Discover
Ads appear on the Shopee homepage's Daily Discover section to shoppers who have shown interest in similar products in the past 30 days
Conclusion
Shopee Ads have emerged as a pivotal tool in the arsenal of businesses seeking prominence within the Vietnamese e-commerce realm. The multifaceted approach, encompassing Search Ads, Discovery Ads, and Boost Ads, empowers sellers to engage customers strategically, optimizing visibility, sales, and revenue.
By capitalizing on Shopee's algorithm-driven recommendations, businesses can attain higher conversion rates and a more efficient customer journey. But if you want to maximize the power of Shopee Ads, you should consider enhancing your competitive rate by increasing vouchers, and discounts and improving your brand positioning by investing in social media. As Shopee continues to reign as a dominant force in Vietnamese e-commerce, adept utilization of its advertising services remains a cornerstone of success for both established enterprises and emerging businesses alike.